Madagascar, Africa.
Andringrintra National Park region
View the Andringrintra with Google Earth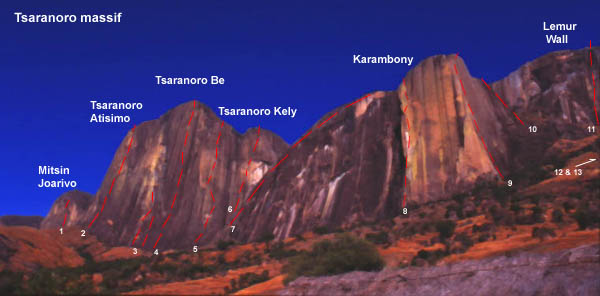 Routes: 1-Les Crabe aux Pinces d'Or 7b+, 380m. 2-Mai Piu Cosi 8a+ (no redpoint), 700m 3-Attempts on the most obvious line. 4-Gondwanaland 7b+, 800. 5-Out of Africa 7a+, 600m. 6-Bravo Les Filles 8a+ (no redpoint), 600m. 7-Gilles route 5+, 450m. 8-Fantasia 6c A3+, 450m. 9-Rain Boto 7b+, 420m. 10-Karambony Normal route (descent) 5+. 11-Petite route 6b, 250m. 12-Ebola 6b+, 250m. 13-Tsac Tsac 7a+, 250m.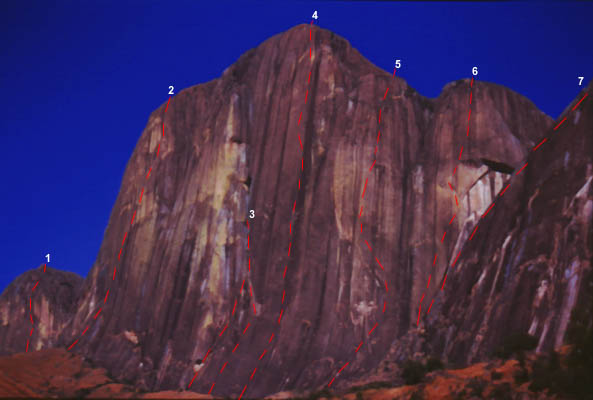 Fine granite and consistent weather will doubtless place the area firmly on climbing maps. The scene in Tsaranoro's valley is very rural, several villages all without electricity and amenities, reliance is on crops, cattle & regional markets. Locals are honest, friendly and curious, working for Gilles (camp host) is their biggest & quickest source of income. Some have shoes and coats, others walk bare foot with blankets. Their shoes are commonly carried in hand only doned for certain terrain or dressing up. A simple existence, local rituals involve cattle slaughter with music & dancing; reverence for ancestors have saved some jungles from being completely scorched by slash & burn agriculture. Tombs are built on bouldertops and in high caves; as a result most porters refuse to be in the jungle at night. Winter is the dry-season with seldom storms bringing chill winds & drizzle at worst. The summer's rain waters the remaining jungle, much of which has been burned for field terracing or grazing, but lemurs & chameleons still thrive in leftover patches.
Climbing development began quite recently, Kurt Albert & Bernd Arnold visited in 1995 adding the initial three routes; but the locals developing the land hundreds of years ago, little has changed, except a new source of income: Hauling heavy first world equipment round the cliffs. Michel Piola seems to like the region, having authored three fine lines and is currently new routing on the island. Strong French and Italian teams have left a couple of test-pieces, Gondwanaland a sporty 17 pitch 12c & Mi Piu Cosi, 5.13 A0; the Italian team didn't have enough time & were pressed to finish, redpoint awaits. The steep domes are quite devoid of fissures, even when found very tough vegetation thwarts all but the most manic of cleaning attempts.
Gilles Gautier runs Les Lezards de Tana, a good island resource for all needs; transport, information, accommodation: Also the founder of Camp Catta, Tsaranoro's basecamp. email for info: madamax@wanadoo.mg
Once in Madagascar necessities are cheap and reasonably easy to find, car rental didn't seem to be available but van charter or taxis are reliable. Traveling half way across the country via Taxi costs less than stateside airport parking or shuttle service ($35 - 300miles). Flight to the island are via Europe, Air Madagascar and Air France are currently the only carriers.
Check out Gilles Gautier's site for current topos & info.