Fitzroy's North (Casarotto) Pillar & Poincenot
View Argentine Patagonia with Google Earth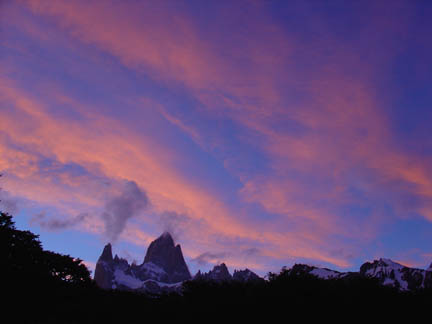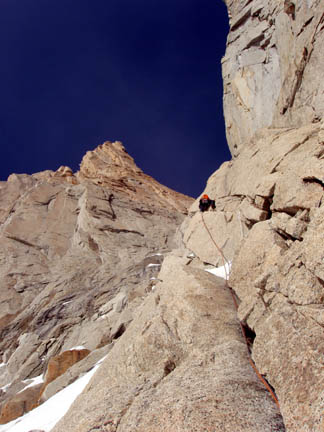 Patagonia is a fickle venue, wind sweeps away footing and precipitation engulfs the planet's finest skyline for entire climbing seasons.
Arrival into town beneath Cerro Torre & Fitzroy's massifs, El Chalten always creates nervous tension, so much desire to stand atop the season's prize, how's the weather been, are the peaks visible? Spiky peaks loom across the flat pampa, displaying their impressive relief and abrupt ecological shift as one trundles dirt roads toward town. More tension is created; if they're unveiled have we missed the weather window? Will there be another?
Tales of this wind ravaged land left me wondering the point of it all as a youth absorbing all possible climbing literature. First visit and first view had me hooked, even a couple of shut out, total rainy seasons didn't dowse desire, I'm hooked: The sharp spires exude a consistent magnetic draw if I don't travel south then the season will be spent wondering their condition.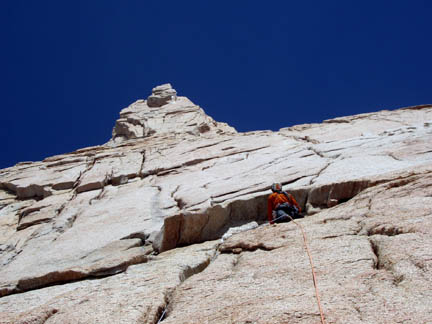 Fitzroy's North (Cassarotto) pillar was the route of intent for Leo Houlding and myself. Forty topo pitches, impeccable granite, striking and sustained in a place where a route can be all that's granted there's no time to "warm-up"?
Not too bad we thought, no problem for a twenty-four hour ascent, on paper nothing ever looks hard. Base-camp quickly established in Rio Blanco's small patch of forest, a small thatch of trees amid moraine and steep slopes. Our weather window was sliding open immediately upon arrival; clearing skies cracked the whip, action ensued; straight from town to camp, one frigid cloudy day then up, up. Accessing the Eastern aspect of the range is reasonably quick, usually a snow cave bivouac is employed at Passo Superior but we opted to start the ascent from base-camp; simply load up and go. Snow conditions are everything for the Passo and Fitzroy's glacier: An early start ensures crisp walking on the snow, not punching through the crust ('post- holing'), deep calorie burning steps that quickly frustrate and deplete energy.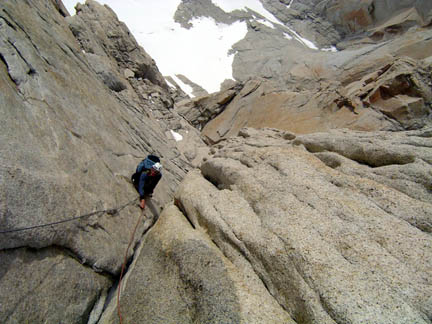 Rio Blanco to Passo Superior was three decidedly uphill hours, a further hour across the Fitzroy glacier and we stared up the "Approach" gully. Four hundred metres (an alpine prize in its own right) of technical roped climbing to the base of the pillar proper. Light and fast was the plan, always an oxymoron in Alpinism, a relative term. My big boots and crampons were stowed at the base of the gully effectively committing a return down the same route. Three rock pitches then Leo took over with the big boots, crampons and tools to stretch four further rope lengths to the "First pitch". Jumaring wet snow in climbing shoes didn't seem a great idea as we actuated the fast n' light plan but we were rolling upward. Below the first rock pitch atop the "Chockstone" gully a further stash was made, Leo's big boots and one of the ice axes. Engaging the climb with rock gear & just enough ice gear to not be thwarted by mixed climbing above the pillar onto Fitzroy's summit plateau: One pair of crampons and a single ice hammer.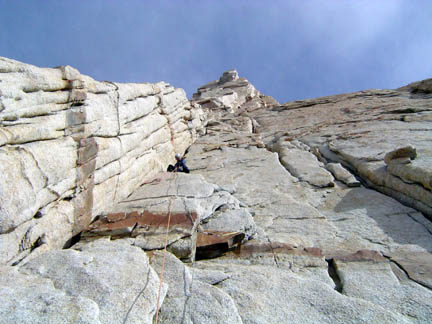 The pitches flowed, more sustained and time consuming than anticipated, not fluffy ledge shuffling but always a real pitch with a considerable amount of hard-ish climbing, 5.10+/5.11. We lead blocks of five pitches each with the second following each pitch instead of employing jumars. Two litres of water snack bars and a mixed bag of nuts, raisins & chocolate were the vittles. Around eight thirty everything began grinding to a halt, mentally addled and physically drained, we started noticing small 'comfortable' ledges, desirous of a rest: Personally I put it down to forgetting my secret weapon, No Doze 200mg Caffeine pills, they lie to mind and body convincing one the fatigue is far away. Movement became laboured and confusing a forced rest ensued. We sat our a chilly night without gear for bivouac, I slept in my pack and always awoke (every ten minutes) to a stern stare. Refreshed wouldn't be the best description for morning; a quick snack bar, bash the water bottle to create slush from the ice block then a return to precipitous gain. Two sustained 5.11 pitches for breakfast then Leo's turn to get us atop the pillar.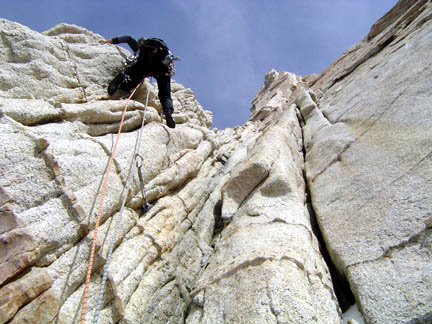 A hard 5.11 section then climbing eased and we stoop upon the pillar, quickly realising why most turn and return: An ice chocked gully/chimney shedding sizeable blobs with enough regularity to shift psyche. Two fellow climbers from California, Aaron & Jacob turned around at this point opting out to flee the encroaching cloud. Somehow, this spurred us, weather was hard to ignore but also felt too far to have climbed and turn around. Leo admirably linked three topo pitches up into and out of the icy chimney, then I did the same with the final three technical pitches. Both stretched pitches proving easier to lead than for the following pack mule.
Two-hundred and fifty metres of simul climbing gained the summit.
Clouds ripped through the sky, so much so I flinched as one split around me while standing on top.
We stood on Fitzroy separately, one ducked into a hole as the other enjoyed brief views and clouds raking by. Concern with weather did not dwindle the summit's pleasure; toil and a long descent were simply inevitable, part of the game!
Strong wind laboured rappel descent, luckily slightly protected as the West face bore the brunt of weather. Blasting ceased as a new day aided passage, granting light for descending the final gully.
Luckily, the precipitation didn't start until we cleared the glacier and were on the home straight: Ice forming on ropes and equipment is the norm during bad weather plus wind making it impossible to remain erect & retrieve ropes. Fitzroy North Pillar topo.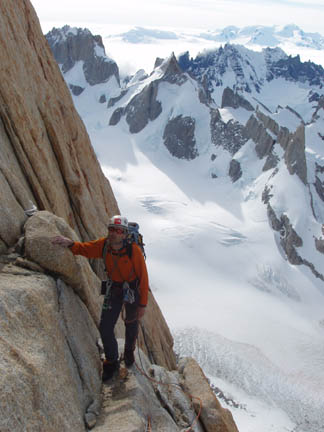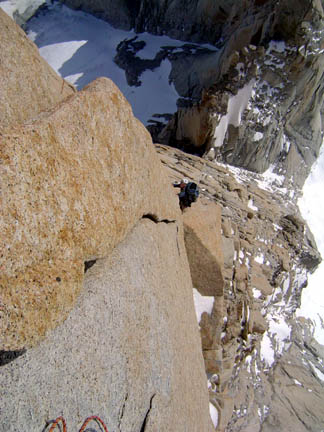 Two days rest was granted by a short storm, then back into action, just enough time to grow some skin and regain a pound or two.
Poincenot was objective number two, via its west face, a free variation to the Fourouge route. From Rio Blanco we loaded up and hiked into a different valley passing the Bridwell base-camp and continuing four further hours to a bivouac beneath the technical climbing. Several thousand feet in an approach gully bearing threat from a fat Serac started the mission then climbing shoddy yet very steep rock proved exciting but less threatening than its approach. Several very steep pitches with protection that I'm sure would have proved merely psychological punctuated by a meaty 5.11+ loose conclusion into the upper common ground (Whillans route). The summit was reached just before sunset, proving perfect for photo lighting yet less so for descent: Morning light provided the necessary clarity to cast ourselves down, all went fine arriving into the serac gully (dubbed "Death Gully") minus half the rack yet safe from the steep.
Barometric pressure is on the rise and one night here in civilization may be all the rest granted before the next round. Enough time to roast a sheep over an open fire (asado) with many international compadres and steep seekers.
The weather seems to be luring up valley once more, another round in the steep should the weather open a sufficient window?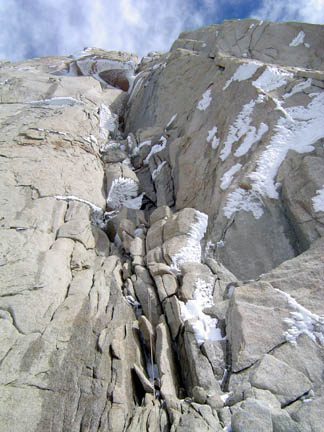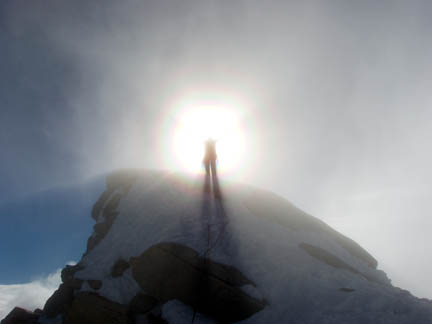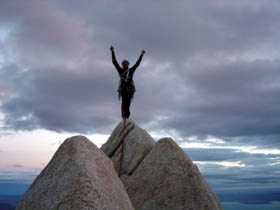 © Kevin Thaw