Headpointing Originally published on


Getting to the top is everything. How you do it is nothing
Words and Pictures by Adrian Berry
In a way, I've been here before. I've visited this place maybe a hundred times for over six months. I have sat here with a brush in my hand cleaning off the lichen, I've been here measuring up the possibilities for protection. I was here in the dry summer heat and in the cold wet winter. I've climbed here too. Again, and again, I've tried different ways of doing a sequence of moves - a sequence worth 5.13 on a top-rope alone. It's not that I couldn't do the moves, I just needed them to be perfect.
And now I am here again. Physically the same place, but mentally a whole new world. Where the ropes used to go up to the top-rope anchor, they now go down to a pair of very worried belayers - past an assorted collection of runners a seasoned aid climber wouldn't want to trust with a fall. My body has done these moves over, and over. Physically this is as far from onsight climbing as is possible, but in terms of climbing into a new state of mind. This is 100% on-sight. This is the headpoint.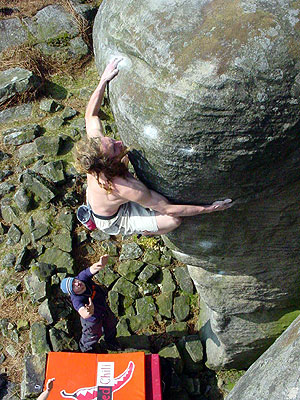 Miles Gibson on the first ascent of an E8 7a at Moorside Rocks, the Peak District
Headpointing it is the application of what we would now call 'redpoint' tactics to a traditionally protected route. Typically the moves of a route are worked on a top-rope until perfected, the necessary pro is determined, placing it is rehearsed, and where necessary the gear is even customised to fit. It is also quite common for extremely hard to place gear to be left in place, and retrieved later, whether you chose to do this is a matter of personal judgment (and of course honesty!). Headpointing is the climbing equivalent of a high-wire circus act, practiced in safety, then the net is lowered to the ground and it's for real.
Technically speaking, if you're cleanly leading a trad route that you've previously top-roped, seconded, or failed on, then you're headpointing. If you top-rope a route to check it out and didn't think to put tick marks on the crux holds, make a mental note of the pro you need, and generally stack the deck in your favour - there's nothing wrong with leaving things to chance, and for most routes the sort of preparation required for a hard headpoint just isn't needed - or isn't desirable - after all climbing without challenge is quite a soul-less experience. The sort of routes that are headpointed tend to be either very serious - such as the bold, scarcely protected trad routes in Snowdonia, Wales, and on England's gritstone outcrops, or very hard climbs in serious situations, such as the hard free routes on El Cap - like The Nose and the Salathè Wall, where sooner or later you're going to find yourself working the moves - may as well get it over sooner!
The great thing about headpointing is that once you've either blown or disregarded all hope of the onsight or flash, you can pretty much do whatever you want to give yourself the very best chance of getting that tick. Of course, for most climbers, headpointing is as far removed from their weekend's climbing, when I was a novice climber, most of the older climbers would have cried foul to watch me top-roping routes I'd failed to lead onsight - but they didn't seem to have too much of a problem with resting on their gear - and still ticking it in the guidebook!
The term headpointing was first coined by Nick Dixon in 1989 after his repeat of Face Mecca (E9 6c - 5.12+ X) - an exceptionally bold route in Snowdonia. By giving the age old leading a route with significant amount of prior knowledge a name, Dixon created an air of honesty in a climate that, for years, had led climbers into covering up their tactics for fear of criticism. It was as if someone had finally stood up and said "yes, actually I did top-rope it, in fact I top-roped it until I was sure I wasn't going to fall off and die - I'm not crazy!".
While the birthplace of modern headpointing can be traced to the mountain crags of Snowdonia, it is on the Peak District gritstone crags that climbers have truly applied the headpoint ethic, with bouldering power and sport climbing fitness, there are now numerous routes which combine hard, bouldery climbing with low, poor, or even non existent pro. The release of the climbing film Hard Grit truly captured the gritstone headpointing scene, and made public the tactics used by the top climbers. This inspired a generation of bold young climbers who are working their way through the list of gritstone headpoint classics - Braille Trail - Gaia - End of the Affair - Knockin' on Heaven's Door - Parthian Shot …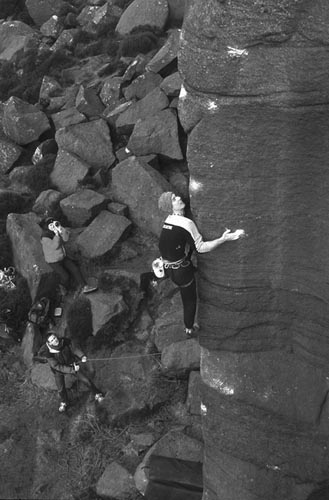 Neil Gresham on an attempt to repeat Equilibrium E10 7a, Burbage North, The Peak District
Headpointing developed out of the practice of simply top-roping a difficult section of a route prior to attempting a lead. The logic goes like this: if I'm going to inspect the moves prior to leading, I may as well try the moves, and if I'm going to try the moves once, I might as well try them over and over, until I know them. Seeing as I'm on the route, I may as well check out what the gear is like, now seeing as I know what gear I need, I don't need to weigh myself down with anything that I don't need. If there's a particularly hard, blind move, I may as well chalk up the holds, and mark them out if they're really hidden.
Headpointing a bold route at your limit is hard enough without leaving any of the physical climbing to chance - it will still be terrifying enough because you just don't know how you will feel psychologically until you're committed on the sharp end of the rope.
Most hard headpoints take place in cool conditions when the crag is quiet - usually mid-week. I once made the mistake of trying to headpoint an E8 on a busy Sunday, I was psyching myself to start up it when a climber started up an easy adjacent crack with a full rack of hexcentrics, clanking away like cowbells, totally oblivious to the team of spotters, belayers, and photographers waiting for me to set off. I went back later in the week!
In terms of physical preparation, the main aim is not just to be able to do the moves, but to know you are doing them in the most secure way possible. Rule out any other possibilities by trying them and either adopting them or completely dismissing them from your mind, the last thing you want to do in the middle of a headpoint ascent is start questioning whether you're doing a move the best possible way! Even worse is to try a different way and find it wrong!
As the protection will always be less than ideal, the aim is to find as much as you can, and ensure you've got exactly the right piece. Sometimes a little modification is needed, such as filing down wired nuts, or sawing off pitons. A common practice is to test the gear with a pack filled with rocks, however, it is questionable how much confidence a 60 kilo climber can gain from knowing the gear will hold a 30 kilo bag of rocks!
Where the gear is low, a sprint belay is often called for, a drop-test, can be highly valuable in this situation as it give both belayer and climber an opportunity to gauge at what point the climber will hit the ground, and how fast the belayer has to run. There is huge potential here for the use if pulley systems to allow a belayer to take in double the slack than otherwise possible, but, to my knowledge they haven't been used in practice. Yet.
The redpoint ethic catches on
The main reason that headpointing is so popular in the UK is that many of the best crags are in bolt free areas, but recently it's been catching on elsewhere. The first to adopt the bolt free - headpoint approach is Italian, Mauro Calibani, who after making a series of trips to the gritstone crags of northern England, applied himself to an unbolted project back home in Italy, with only two cams of a Friend 4 and a clutch of small wires between him and the ground, he covered f8b (5.13d) territory to produce Is Not Always Pasqua, and Italy's first E9.
Headpoint grades?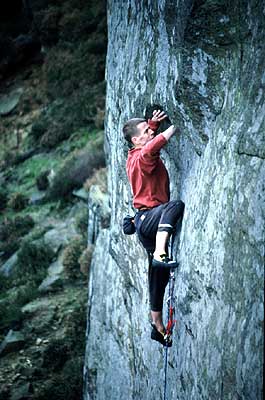 John Arran on the first ascent of Doctor Dolittle E10 7a, Curbar, The Peak District.
In the UK, an average keen climber should expect to be able to climb routes graded around E1 (5.9), looking at magazine reports of the latest E9 and E10 routes without an understanding of how these routes are climbed (i.e. headpointed) must be both hugely impressive and demoralising. The fact is that most of us try routes onsight, and if we don't manage it, try something a little easier, and maybe return to the harder route later in the year when we're feeling stronger. The hardest routes aren't climbed in anything like this style. In fact, so completely different is the headpoint approach that many leading exponents of the art have advocated a different grade system altogether, recognising the huge gulf in difficulty between onsight and headpoint. So far none of these have caught on, but to give an indication of the differences, in the UK the E grade goes from 1 to 10. Most climbers are capable of onsighting routes at E1 (about 5.9), with training and dedication that should be extended to about E4 (safe 5.11c), when things start to get hard, on gritstone you don't see many people onsighting E4. At E5 onsight, you would definitely feel very pleased with yourself unless you were one of the top climbers of the day. Onsight an E6 and you are seriously good, E7 is the hardest that anyone has onsighted on trad gear in the UK, on gritstone, E7 onsights are very rare. That leaves the top three grades as the exclusive preserve of headpointing. At a rough calculation you should be able to headpoint routes three grades above your onsight limit, so maybe those big numbers aren't as far away as they look?
Demystifying the'E' grades
This table gives an approximate comparison of what the 'E' (extreme) grades mean, as the gear ranges from none to perfect, the actually technical difficulty of climbing varies dramatically within a grade, for example, E9 routes in Britain vary from unprotected routes with climbing at 7c (such as Meshuga and Indian Face) to completely safe routes with all leader placed pro such as The Big Issue, which would be hard 8a+ just to top-rope.
| | | | | | |
| --- | --- | --- | --- | --- | --- |
| 'E' Grade | Totally Safe (Bolts) | Leader Placed Gear (safe) | Runout | Bold | Dangerous |
| E10 | 9a | 8b+ | 8b | 8a+ | 8a |
| E9 | 8c | 8a+ | 8a | 7c+ | 7c |
| E8 | 8b | 7c+ | 7c | 7b+ | 7b |
| E7 | 8a | 7b+ | 7b | 7a+ | 7a |
Note, this table is only to give an idea of how the level of danger effects routes in the UK grading system, it's not a rule for grading!
The advent of bouldering pads has made a big impact on headpointing, with hard, uneven landings being covered in layers of pads, greatly reducing the chances of injury. Most hard gritstone routes are less than fifty foot long, and the shortest ones sometimes only three or more meters - Jerry Moffatt's Froggatt six meter test piece Renegade Master was originally graded E9, and lead with pre-placed wires - it's now repeated with pads as a highball boulder problem, and has been repeated by Tom Briggs, ground up.
Where there is pro, often it is the pro designed for aid climbing that is used to protect poorly protected routes, with micro wires, sky hooks, pitons (hand placed, of course) miniature cams, and sliding nuts all being utilised, and sometimes tested in falls.
The gritstone headpoint dream-list
| | | |
| --- | --- | --- |
| Route | First Ascent | Known Repeats |
| Equilibrium E10 7a | Neil Bentley | Neil Gresham |
| Blind Vision E10 7a/b | Adrian Berry | None |
| Doctor Dolittle E10 7a | John Arran | None |
| Widdop Wall E9 7a | John Dunne | None |
| Harder, Faster E9 7a | Charlie Woodburn | None |
Nick Dixon
The father of headpointing
What attracts you to hard headpoints?
For me headpointing is in some ways the purest art form as the end product is an unconscious flow experience in a state of total no time where one steps onto the route and no more conscious thought takes place until you step off it. Headpointing is a meditative practice, climbing is just the medium you do it in.
What sort of psychological preparation do you do prior to a hard headpoint
Find that I can do it. Play on the route on a rope ,. Learn the sequence . practice the gear. refine the moves and sequences. make sure I can do the route over and over in my mind without fault , in bed ,at work . Take time to need the route . Explore my wishes to climb the route and be honest with myself. Practice the route more both physically and in my mind. Then not think too much, just do it.
What headpoints do you rank among your best?
Ben Heason
Just practicing for the onsights …
What attracts you to hard headpoints?
One of the major reasons I like to headpoint is the practise it gives me, and the confidence I feel I gain for hard on sighting - it makes you realise what your mind and body can get away with on the lead. But it does take a lot of practise to be able to make the successful transition between the two.
What sort of psychological preparation do you do prior to a hard headpoint?
When I feel I've got the route wired I just run over and over it in my mind, using mental imagery to allow myself to visualise success automatically. I seem to be quite good at "switching off" and not letting my emotions interfere too much when I'm doing a bold route.
What headpoints do you rank among your best?
Neil Gresham
The headpoint addict
What attracts you to hard headpoints?
One of the big things about headpointing is that you usually need a lot of time off in between ascents to recover mentally and re-generate motivation. In fact it's the whole process that I love rather than just the ascent. It usually starts with a wicked thought that you might actually want to do this route. So you top rope it a few times and invariably repulse yourself on first acquaintance, but then it starts to feel easy and all of a sudden things change: you realise it's on and at that point, your whole world changes. You know that you're not going to be free from the clutches of this thing 'til it's in the bag, and then the whole agonising process of preparation commences. The ascent itself is invariably an anti-climax as it simply frees you from your torment! Until it all starts again of course. It's a very personal journey that teaches you a lot about yourself, and a very different experience to onsight traditional climbing. I would only advise it for those who have built up a firm foundation of easier trad climbs first.
What sort of psychological preparation do you do prior to a hard headpoint
A lot of visualisation and a lot of positive self-talking where you remind yourself of previous successes and bolster your confidence.
What headpoints do you rank among your best?
Equilibrium E10 7a (2nd ascent)

Meshuga E9 6c (2nd ascent)

Indian Face E9 6c (3rd ascent)
Kevin Thaw
Homeland visits just to headpoint …
What attracts you to hard headpoints?
The rock, geography, mental aspect, gritstone's unique subtle holds and movement. One has to dig deep on cliffs of relativlely short stature. It's a journey beginning in the first foray, then the nervous tension after smoothly top-roping; realizing 'it's on'! A very pure form of climbing in my opinion. Leaves the location free of hardware aesthetically.
What sort of psychological preparation do you do prior to a hard headpoint?
I remember Ron Fawcett's classic statement "Could do it one in Four, so went for it, figuring the adrenaline would keep me going"?
What headpoints do you rank among your best?
Mauro Calibani
Italian bouldering comp star turned headpoint disciple
What attracts you to hard headpoints?
I like all aspects of climbing, and I like to try all the climbing styles. I started climbing in the mountains with my father, on classic routes without bolt, and so I have a big respect for that style, and I am attracted to this in a physical and mental way, but I think that the first thing who attract me are the beauty of some line.
What sort of psychological preparation do you do prior to a hard headpoint
I don't particularly train my mind, I just follow my instinct and motivation.
What headpoints do you rank among your best?
Is not always

Pasqua

E9 7a

Renegade Master E6/7 6c
Dan Honneyman
The headpointing machine!
What attracts you to hard headpoints?
Above E5 the consequences of a mistake increase dramatically, and the technicalities increase too, out of proportion to other mediums like limestone, as grit is so short and friction dependant. Also E6's and above on grit still are not that popular, so, unless you are on one of the commonly repeated ones the likelihood is that the route will need some cleaning. I also found that I could get an awful lot more routes done this way.
What sort of psychological preparation do you do prior to a hard headpoint?
For the easier or safer routes it is usually OK to go for it after getting the route roughly wired, but some of the more dangerous routes require me to go away and get obsessed, maybe drawing a diagram of the route waiting for perfect conditions and getting a team of trusted spotters or belayers together.
What headpoints do you rank among your best?
I have done 106 E6's and above (only 2 onsight!) and they were all amazing at the time, I don't lead a route if it doesn't turn me on. The routes I always said I wouldn't mind never climbing again as long as I did them were Unfamiliar at Stanage and Living in Oxford Burbage (both E7).
---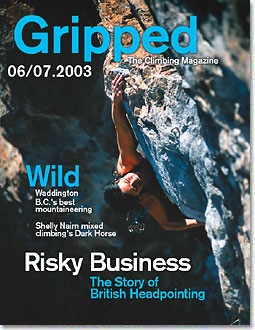 This feature originally appeared in Gripped magazine