..

● Satellite connectivity from the field:

Website publishing/updating, email, file transfer from anywhere on the planet,... Becoming a Professional climber following graduation from Manchester University with an Engineering degree granted an understanding and fine tuned perspective of communication technology. Through numerous expeditions I used and have watched development that allowed a good communication thread to be maintained. Times beyond ever reaching cell towers & phone/data lines when connectivity is necessary have arrived. Not just the ability to send and receive voice & data also a layer of safety is added.

Dispatches direct to server for immediate publishing:
Images

Files

Video

Remote server access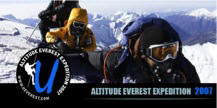 Whatever need be sent or specific uplink be made,
Recent dispatches, videos and images from Everest's summit with the Altitude Film Expedition ueverest.com
Film web site: "The Wildest Dream".
For your project's communication from a remote location contact a specialist. Dispatch & communication experience from many Expeditions. Communication chief in Morocco, Nepal (twice), Pitcairn Island , two expeditions to Patagonia & previous trips to India, Alaska, Mali, Chile,... Images & text (video on recent ventures) were sent from portable satellite device coupled to a PDA. Several recent trips have involved live internet updates published directly from the field: Data sent to pre-established server side templates enabling rich results from a highly portable devices. From Tropical South Pacific or the dusty Sahara to the roof the Himalaya, tried, tested, proved.
Direct file transfer; web site publishing, FTP transfer of all file types plus; high resolution images, documents, video,.. Experienced with all Satellite systems (Inmarsat, Rbgan, Iridium, Globalstar,...) & relevant operating systems (Windows, Mac, Windows Mobile, Palm OS, Symbian,..).
..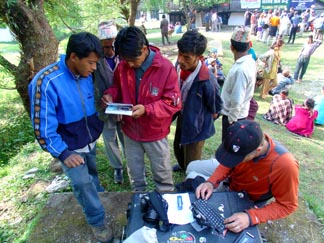 Examples of recent work for North Face & Explorers Web:
..