Climbing in Patagonia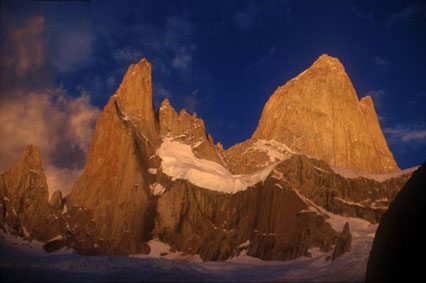 Writed by:
Marco Durá & Guillermo Durá
Click the Peak on the image below to link to topos (or scroll down the page depending on your browser)

Climbing in Patagonia
Welcome to Climbing in Patagonia, the objetive of this climbing guide is to offer climbers a useful tool which will help them enjoy climbing a lot in the Fitz Roy Massif. Here you find route graphics, photos, maps and the history of the protagonists who contributed to make the Fitz Roy massif a climbing centre world-wide known. Since many climbers from different parts of the world climbed in Patagonia, the information about the area was quite spread. We have gathered a great deal of that information with the main purpose of gave them to climbers. We hope that you enjoy it.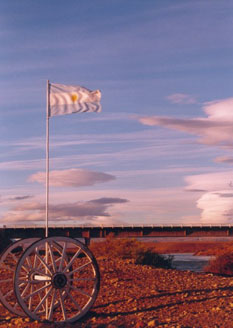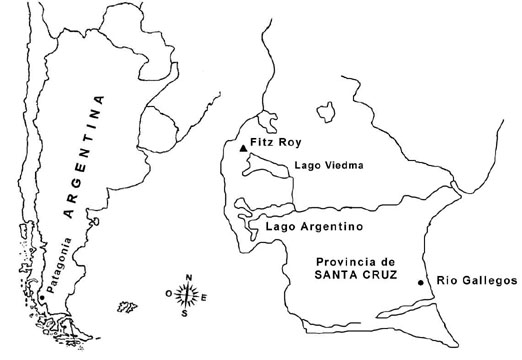 Known as the end of the world, this region owes its name to the Patagones aborigines called so by Magallanes, since they wrapped up teir feet with big animals´ furs. Patagonia begins at the south of Colorado river and is made up of such provinces as Neuquen, Rio Negro, Chubut, Santa Cruz, and Tierra del Fuego. It is an inhospitable region with a density of population inferior to one inhabitant per square kilometre. Its first inhabitants were Patagones, Tehuelches, Mapuches, and Onas aborigins.With colonization, many explorers and immigrants first settled on the coast and then seeking for more land, they advanced into the pampa and began to live on farms located in those territories gained from aborigins.Such farms had vast extensions of land with no other limit than the horizon.People got there by carts travelling through long tracks.The working of the farms was and is currently done by "gauchos,"men who lead a quite calm life.
Patagonia is not only pampa.In the west, lakes, mountains and glaciers are found.In this region The Andes mountain range is divided in chain mountains which are immersed in the Continental Ice. Among these mountain chains, del Paine massif, San Valentin and San Lorenzo hills, and the Fitz Roy massif stand out, the latter being the main concern in this guide.At the beginnings of the century, The Andes Australes won fame catching European climbers´attention and with the passing of time It has become a world-wide known climbing centre.
Fitz Roy Massif.
The Fitz Roy massif is located between San Martin and Viedma lakes. The first settlements in the region were farms such as the one belonging to Andreas Madsen , a Danish pioneer and sailor who settled along the bank of Las Vueltas river in 1902; and the one belonging to the Norwegian Halvorsen brothers who settled near Tunel river. Those farms constituted the only places where climbers´expeditions arrived.Getting to them was a great adventure because there was no public transport, tracks were inbad state and broad deep swift rivers had to be crossed on boats. Then as time went by, In 1937 Los Glaciares national park with an area of 600,000 hectares, a forester department, and a hostel were created. Then in 1965 there was a detachment of the National Gendarmery in La Florida farm. With the main aim of increasing the population on the boundaries, which were not established yet, El Chalten village was founded in October 12 ,1986.It is located by the foot of Los Andes mountain range, in Lago Viedma department of Los Glaciares national park,in the south of Santa Cruz province.It is 500 kilometres far from Rio Gallegos and 360 above sea level. El Chalten is a small village but it is constantly growing.
The mountains and its ascents.
In the following pages there is a description of all the hills of the region, the first ascents, new routes, and the corresponding graphics.To get a better idea about where the hills are situated, the area was divided in four regions which are the following: Fitz Roy zone, Torre hill zone, and Pier Giorgio zone. From each zone every hill will be shown and from each hill all the routes will be described.
Fitz Roy

First explorations.
First ascents.
Other ascents.
First 10 ascents.
Sorry the english version finish here the next pages are in spanish!!.
we are working on the traslation.
Routes from La Silla de los Franceses.
Routes from Piedras Blancas glacier.
Routes from the North Pillar.
Routes of the west spring.
Hills and needles of the Fitz Roy Group

Part 1
Part 2
Part 3
Part 4
Ce. Eléctrico.
Ag. Guillaumet.
Ag. Mermoz.
Ag. Val de Biois.
Filo del Hombre Sentado.
Punta Anna y Punta Mujer.
Ag. De la Silla.
Ag. Desmochada.
Block M&M.
Ag. Caquito.
Ag. Poincenot.
Ag. Rafael Juárez.
Ag. Saint Exupéry.
Ag. De la 'S'.
Ce. Mojón Rojo.
Ce. Techado Negro.
Cerro Torre

First attempts, 1950.
North Face, Maestri - Egger, 1959.
Sud east ridge, first attempts.
The Lequeses, 1969.
Compressor route, 1970.
Ragni route, west face, 1974.
First 10 ascents.
First alpine ascents, 1977.
First alpine climbing to Compresor route, 1979
First winter ascent, 1985.
First solo climb, 1985.
First descent in paraglading, 1988.
Winter ascent to the Ferrari route, 199.
South Face
East spring routes
Routes of the West spring
Hills and needles of the Cerro Torre Group

Part 1
Part 2
Part 3
Ce. Solo
Ce. Grande
Ce. Doblado
Ce. Ñato
Ce. Adela Sur
Ce. Adela Central
Ce. El Mocho
Torre de la Media Luna.
Torre Egger
Phillip Herron.
Cerro Standhardt.
Perfil de Indio
Ag. Bífida
Pachamama, Inti, Atchaichila
Ag. Cuatro Dedos
Ce. Domo Blanco.Cerro Pollone.
Aguja Pollone.
Gran Gendarme del Pollone
Pier Giorgio zone.

Ce. Pier Giorgio
Ce. Rincón
Ce. Volonqui
Ce. Marconi
Ce. Marconi Norte.
Ce. Loma Blanca
Map of the zone
The Logistics of the zone.
Chronological list of ascents.
Bibliography and Gratefulness..