..
● Recents-ish Press
Oldham's Honour roll addition.
UK Climbing recent interview.
ESPN channel, Aventura program interview.
Bio on "Wikipedia".
Oldham Advertiser book review piece .
Oldham Chronicle piece.
Borneo article for Argentina's Vertical Magazine published in edition #8.
Profiled in Lancashire Life.
Mali article for Argentina's Vertical Magazine.
Profile in Argentina's Kooch Magazine. (magazine online).
Buenos Aires' Weekend Magazine.
Who's Who in British Climbing, book by Colin Wells.
Pitcairn article in Hong Kong's X-Life magazine. (Article)
Stomping Grounds piece for UK's Climb Magazine, (Article)
Gritstone top ten article for US Climbing Magazine, "Legends of the Fall".
Everest TV Documentary and Wildest Dream film on screens now.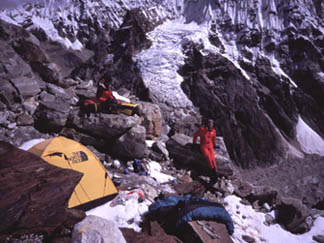 Climbing Magazine piece on our Moroccan venture.
Climbing Magazine Kevin Thaw feature article by Wills Young.
World Best Climber? Chart ranking one's overall performance and four examples: John Arran, Stevie Haston, Kevin Thaw & JC Lafaille, by Ian Parnell.
Headpointing, Adrian Berry unfold the mystery of Britain's Gritstone.
Images of recent new routing in Northern England, Chew gallery.
Outside Magazine article prior to Jannu trip.
An article on 'World's Best' theme in UK's Climb magazine.
All climbers remember TROLL, right? World first harness manufacturer.
Interview in Southern CA's Allez magazine '94.
Plus many more inclusions from UK's Oldham Chronicle to Provincia del Santa Cruz's La Opinion and various Magazines across the globe,...
Mali W Africa. Podcast download of North Face/New Line Cinema "Journey to the Hand of Fatima", 'right click the following text, then click 'Save Target As..' Clip of climbing Kaga Tondo.
Videos from Borneo Big Wall expedition: Compiled Dispatches.
● For my published work 'check here'.
..
● Journeys & Events
Reel Rock 9 (Valley Uprising) tour through Buenos Aires
Banff Film festival tour through Buenos Aires, presenting 'The Wildest Dream'.
Recent visit to the ancestral land.
Bafici film festival, The Epic of Everest 1924, film introduction + round table Q&A.
Punto Cumbre course instruction: Movement clinics, Rescue Course,...
Grandest adventure to date?
Salta journey: Rigging for magician Gustavo Raley's escape from a straight jacket while hanging from a crane.
Rigging for aerial dancers and banner hanging on the Obelisk in Buenos Aires.
Route setting for Buenos Aires Metropolitano Boulder competition (August).
Rocodromo course, La Plata.
Punto Cumbre courses & instruction, in house plus Capilla del Monte, Cordoba Province.
San Luis & Cordoba province, fine Argentine cragging
Commencing with a visit to the finest spiky peaks on earth, just about perfect to kick off a year plus a quest down the (200mile) Rio Santa Cruz.
San Luis & Cordoba province's steep delights.
Southern Autumn, St Exupery via Claro de Luna in fine sunny conditions, rare for Argentine Patagonia. Southern CA, followed by a hot English summer!
November's journey commencement and still ensuing,...
Southern California, Joshua Tree desert winter sunshine then, summer hemisphere,...
Pennine Way, a ramble down the spine of England with old friends. A rare twelve Northern English summer days without rain proved quite a gift; never pitched a tent (and didn't stay indoors) !! (National Trails site link).
Borneo, Mt Kinabalu Massif.
Argentine Patagonia.
India's Kishtwar-Shiviling.
Joshua Tree, Idyllwild & Yosemite spring/summer,...
Half Dome with Kelly Perkins.
Argentine Patagonia 08 Successful ascent of Raphael Juarez, via the Piola/Anker route (first free ascent?).
Puerto Natales, Chile. Presenting at the best of Banff Mtn film festival.
Joshua Tree California.
Venturing onto the track possibly first climbed by Mallory & Irvine. Mt Everest from the North side, Tibet. Lots of videos and images from our Everest success on ueverest.com. Film Site: The Wildest Dream, Film Trailer, Google Earth's World from the Summit of Everest.
Mallorca, rope-less above the med + Gritstone.
Added Podcast download of North Face/New Line Cinema "Journey to the Hand of Fatima", 'right click the following text, then click 'Save Target As..' Clip of climbing Kaga Tondo.
Argentine Patagonia with the hope of icy conditions, plus a 300+Km journey down the Rio Santa Cruz.
Annual homage to UK Gritstone.
Scotland's Orkney islands on a seastack quest.
Taghia Cirque, Morocco.
Gritstone, headpoint season plus slide-shows.
Southern hemisphere summer was spent in Argentina Patagonia: Followed by a month in a central Andean location featuring unclimbed Big Walls!
Nepal with the Himalayan Cataract Project and into the Khumbu to climb Cholatse.
Pitcairn Island, British & French Polynesia, South Pacific.
Yosemite California, for an El Capitan ascent.